Electrified transportation is the way of the future. Ferrari gets on board by rolling out the SF90 Stradale, a plug-in hybrid with sleek styling, blistering performance, and a gas/electric powertrain. 2020 Ferrari SF90 – Electrifying Speed.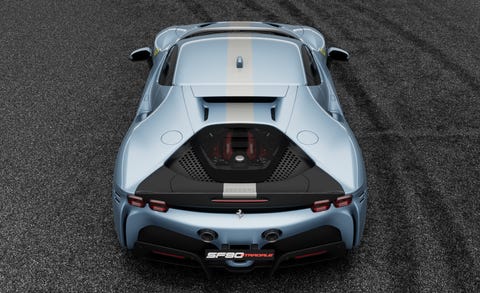 Pricing 
There's only one trim offered for the 2020 Ferrari SF90 Stradale, but it comes packed with enough amenities to satisfy pick for shoppers in this price range.
Engine and Performance
With the SF90 Stradale, power comes from a massive V-8 and three electric motors. The 4.0-liter twin-turbocharged V-8 generates a mighty 769 horsepower on its own, and the trio of electric motors provide an additional 217 strength. The gas/electric powertrain generates a net output of 986 horsepower and 590 lb-ft of torque.
Ferrari estimates that this coupe will rocket from zero to 60 mph in a scant 2.5 seconds. Different driving modes allow you to tailor the car's handling to suit your preferences.
Fuel Economy 
The EPA hasn't provided fuel-efficiency estimates for the 2020 Ferrari SF90 Stradale. This car can travel for up to 16 miles using its trio of electric motors.
Interior and Cargo
Firstly, the SF90 Stradale's interior is relatively sedate, with the yellow prancing-horse logo adding a splash of color on the center of the steering wheel. Secondly, this two-seat coupe is home to a sculpted dashboard with fluid lines that mimic the car's exterior's flowing design.
Lastly, with high-performance, cargo space is naturally in short supply. This is undoubtedly the case with the SF90, which provides roughly three cubic feet of room for your stuff.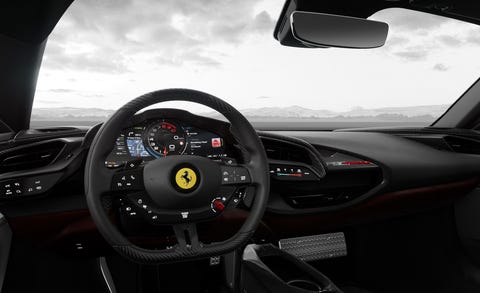 Infotainment and Connectivity
All SF90 Stradales come with an LCD monitor upfront and a six-speaker sound system. The car is also equipped with standard tech features such as Bluetooth phone and streaming audio, real-time traffic, and an integrated navigation system with a voice-activation function.
Safety Features
Key safety features include:
Standard backup camera

Premium rear parking sensors
Verdict
Three electric motors inspire this Ferrari, and they combine to produce a staggering 986 horsepower. Serious power means seriously quick acceleration; Ferrari claims this coupe sprints from zero to 60 mph in 2.5 seconds. The SF90 Stradale is priced at more than $600,000. If you have the money, this car lives up to the hype.